WARNING!
This page is made by XxBlazingDragonxX. Do not edit without permission.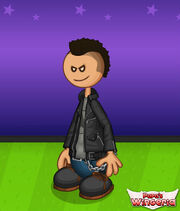 Oliver is a closer in Wingeria. He is the pianist for the band Roxy's Rock and Rollers! He first debuted in Pancakeria, when he just finished piano lessons, from his teacher, Mrs. Sophia Helen, but he just calls her Helen.
Orders
Pancakeria:
4 Blueberry Waffles
Honey
Coffee with Decaf
Wingeria:
4 Parmesan Wings
4 Wasabi Boneless Wings
2 Cheese Cubes
2 Celery
Ranch Dip

Hot Doggeria:
Veggie Dog
Pumpernickel Roll
Fajita Veggies
Mushrooms
Wild Onion Sauce
Bacon
Large Purple Burple
Medium Cheddar Corn
Ad blocker interference detected!
Wikia is a free-to-use site that makes money from advertising. We have a modified experience for viewers using ad blockers

Wikia is not accessible if you've made further modifications. Remove the custom ad blocker rule(s) and the page will load as expected.