Papa's Chocolateria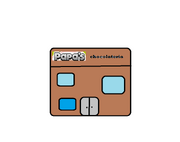 Papa's Chocolateria is a chocolate restuarant in the little town of Cocoa Coast. There are seasons in the game like in Pastaria and Cupcakeria. There is a Order, Baking and Topping station.
Brief Explanation of Stations
Order- If you don't know this..GET OUT NOW!
Baking- You fill different molds with different types of liquid chocolate which will bake and harden. Somewhere around Rank 6, people will order mixed chocolate flavors.
Topping- You put different syrups and shaker stuff on..oh and placeables. Make sure they are placed neatly or else customers take off points.
Customers
Chuck
Mayor Mallow
Gino Romano
Mitch
Santa
Yippy
Robby
Vicky
Doan
Matt
Utah
Radlynn
Greg
Scooter
Mindy
Trishna
Clair
Gremmie
Hank
Clover
Sue
Skyler
Hugo
Hope
Papa Louie
Sasha
Cletus
Carlo Romano
James
Peggy
Sarge Fan!
Kahuna
Tony
Scarlett
Johnny
Deano
Kenji
Kayla
Wally
Kingsley
Mary
Cooper
Bruna Romano
Lisa
Tohru
Timm
Prudence
Edna
Quinn
Penny
Big Pauly
Ivy
Marty
Crystal
Willow
Shannon
Olga
Allan
Akari
Pinch Hitwell
Nevada
Sienna
Captain Cori
Jojo
Wendy
Franco
Cecilia
Bertha
Zoe
Taylor
Professor Fitz
Little Edoardo
Foodini
Connor
Xolo
Mandi
Rico
Georgito
Maggie
Ninjoy
Roy
Rita
Olivia
Nick
Boomer
Alberto
Xandra
Gus
Closers
Xolo
Xandra
James
Trishna
Gus
Quinn
Jojo
Chocolates
White Chocolate (start)
Milk Chocolate (start)
Filled Chocolate of Syrup of Watermelon (Rank 6)
Neapolitan Chocolate (Rank 11)
Filled Chocolate of Syrup of Purple Burple (Rank 16)
Filled Chocolate of Syrup of Lemon (Rank 21)
Mint Chocolate (Rank 26
Plain Chocolate (Rank 29)
Powsicle Chocolate (Rank 31)
Plain Filled Chocolate of Syrup of Butterscotch (Rank 36)
Filled Chocolate of Banana Syrup (Rank 41)
Filled Chocolate of Blueberry Syrup (Rank 46)
Cookies and Cream Chocolate (Rank 51)
Crispy Chocolate (Rank 54)
Filled Chocolate of Passion Fruit Syrup (Rank 56)
Filled Chocolate of Cherry Syrup (Rank 61)
Shapes
COMING SOON!
Ad blocker interference detected!
Wikia is a free-to-use site that makes money from advertising. We have a modified experience for viewers using ad blockers

Wikia is not accessible if you've made further modifications. Remove the custom ad blocker rule(s) and the page will load as expected.