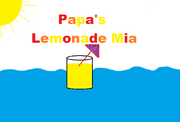 Make the most fresh lemonade there is on the warmest day in your life! Located in Lemonade Fields the best Lemonade you've tasted awaits! Fill the right amount of water in each cup squeeze the lemons and mix it all up and your Lemonade is served
Introduction
Rudy/Clover/Custom Worker is walking on the streets of Lemonade Fields when they see Yippy/Greg trying to sell lemonade. Rudy/Clover/Custom Worker come and try to help by playing some music. Many customers come and try the Lemonade. One of the customers is Papa Louie and he says that he will upgrade the Lemonade Stand to a Lemonade Shop. Rudy/Clover/Custom Worker try to say that he/she were just helping, but Papa Louie hands them their apron.
Workers
Rudy
Clover
Custom Worker
Server
Stations
Order Station - Here you will take the orders of your customer.
Build Station - Here you will choose the cup sizes, add the water and select the flavour of your Lemonade
Mix Station - Here you will mix the flavour and the water together
Extra Station - Here you will add extras in your Lemonade (You can choose not to have any extras if you want)
Customers
Chuck
Allan
Kayla
Mayor Mallow
Sienna
Olivia
Kingsley
Prudence
Rita
Ember
Timm
Cooper
Roy
Foodini
Mitch
Cup Sizes
Small
Medium
Large
Extras
Ice
Straw
Lemon
Mini Umbrella
Ad blocker interference detected!
Wikia is a free-to-use site that makes money from advertising. We have a modified experience for viewers using ad blockers

Wikia is not accessible if you've made further modifications. Remove the custom ad blocker rule(s) and the page will load as expected.