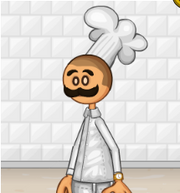 Albert Ernest "Alfonso" is Papa Louie's older brother. He has opened all of the Papa's Pizzeria-Papa's Pastaria express restaurant. He has large orders just like Papa Louie, which include many complicated items. He likes anything, and everything. Although the most interesting part is that if you give him a messed up order (without required ingredients or random items) he will still give you a good mark. He is not absent in any gameria.
Biography
Papa Alfonso started out as a very humble kid. He first got into cooking when he watched a show called Cooking with ? starring ?. He then wanted to be just like ? when he growed up. When he first started out as a cooker, he wasn't as good as he thought he would be. He was actually dazzled that anyone could make anything that bad. He was just about to give up when he heard ?'s quote, "You can be the worst cooker in the world, but the effort it takes to make something, costs a million." That is why he always gives you a good mark no matter how bad the order is.
Orders
Papa's Pizzeria
Green Peppers x4 (Everywhere)
Sausage x4 (Everywhere)
Cooked in 1/2
Cut into 8ths
Papa's Burgeria
Bottom Bun
Lettuce
Tomato
BBQ Sauce
Well-done Patty
Pickle
Onion
Top Bun
Papa's Taco Mia
Pita Shell
Steak
Lettuce
Onion
Tomatoes
Mild Sauce
Loco Mystery Sauce
Papa's Freezeria
Large Cup
Banana Syrup
Pineapple
Chunky Blend
Chocolate Whipped Cream
Tropical Charms
Mint Shavings
Blueberry Syrup
Gummy Onion (Right)
Cookie (Left)
Banana (Middle)
Papa's Pancakeria
Bacon Waffle
Bacon Waffle
Pecan Waffle
Pecan Waffle
Raspberries
Strawberry (Middle)
Powdered Sugar
Honey
Cranberry Juice with Ice
Papa's Wingeria
6 Wasabi Shrimps
3 Wild Onion Strips
Cheese Cubes x3
Zesty Pesto Dip
Papa's Hot Doggeria
Pumpernickel Roll
Cheddarwurst
Mushrooms
Fajita Veggies
Salsa
Hot Sauce
Bacon
Medium Root Beer
Small Cheddar Corn
Papa's Cupcakeria (Standard Order)
Liner D
Zebra Stripe Cake
Sunglow Frosting
Forest Green Frosting
Lollipop Bits (Both)
Rock Candy (Both)
Vanilla Drizzle (Both)
Cloudberry (Left-Both)
Papa's Pastaria (Standard Order)
Radiatori
Beefy Bolognese
Black Pepper
Italian Seasoning
Green Pepper (Left)
Fried Calamari (Middle)
Proscuitto (Right)
Pepperoni Bread
Ranks on List
Papa's Pizzeria - Rank 30 - Challenging
Papa's Burgeria - Rank 41 - Challenging
Papa's Taco Mia - Rank 14 - Easy
Papa's Freezeria - Rank 19 - Easy
Papa's Pancakeria - Rank 21 - Medium
Papa's Wingeria - Rank 20 - Medium
Papa's Hot Doggeria - Rank 34 - Hard
Papa's Cupcakeria - Rank 59 - Challenging
Papa's Pastaria - Rank 60 - Challenging
Papa Louie SE: TVotFC
Papa Alfonso
Weapon: Pizza Slices
Skill: Fly
Range: Small
Ad blocker interference detected!
Wikia is a free-to-use site that makes money from advertising. We have a modified experience for viewers using ad blockers

Wikia is not accessible if you've made further modifications. Remove the custom ad blocker rule(s) and the page will load as expected.