Peac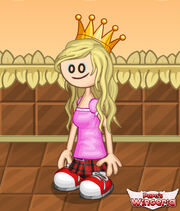 h is a princess. She is currently dating
Mario
. She debuted in Hotdoggeria. She looks similar to an old look of Amber.
Orders
Hotdoggeria: Normal Bun, Keilbasa, ketchup, salsa, mushrooms, onions, wild onion sauce, Medium Fizzo, Medium Cotton Puffs
Cupcakeria: Strawberry Cake, Liner A, Pink Frosting, Strawberry Frosting, Sprinkles, 3 Cloudberries.
Ad blocker interference detected!
Wikia is a free-to-use site that makes money from advertising. We have a modified experience for viewers using ad blockers

Wikia is not accessible if you've made further modifications. Remove the custom ad blocker rule(s) and the page will load as expected.