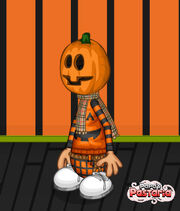 Pedro the prankster! Pedro is a boy who comes from Starlight city. He loves halloween and loves to pull pranks. So far nobody has ever seen his real face, because he doesn't want to get in trouble.He loves to pull pranks on Mrs Audrey (Coming soon by XxBlazingDragonxX) and he hates healthy stuff.
Orders
Papa's Wingeria
Honey Mustard Strips x6
6 Frenchfries
Mango Chilli Dip
Papa's Hot Doggeria
Kielbasa
Hoagie Bun
Bacon
Papa's Ballpark Mustard
Large Fizzo
Large Cotton Puffs
Papa's Cupcakeria (Standard Order)
Cupcake 1
Chocolate Frosting
Lollipop Bits
Sprinkles
Chocolate Syrup
Marshmallows x3 (Left,Middle,Right)
Cupcake 2
Green Frosting
Rockcandy
Cookies Bits
Vanilla Syrup
Nutty Butter Cups x3 (Left,Middle,Right)
Papa's Pastaria (Standard Order)
Spaghetti
Creamy Alfredo Sauce
Meatballs x4 (All four corner)
Parmesan Cheese
Foccacia Bread
Ad blocker interference detected!
Wikia is a free-to-use site that makes money from advertising. We have a modified experience for viewers using ad blockers

Wikia is not accessible if you've made further modifications. Remove the custom ad blocker rule(s) and the page will load as expected.