Petunia is a pharmaceutical shop worker who debuts in Papa's Burgeria. She is absent in Freezeria and Pancakeria. Her favorite holiday is Valentines Day.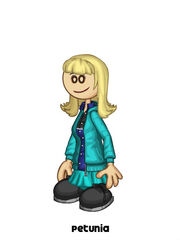 Orders 
Burgeria: Botton Bun, Well Done Patty,  Mayo, Well Done Patty, Mayo, Lettuce, Top Bun.
Taco Mia: Steak, Pita Shell, Mild Sauce, Peppers, Brown Rice.
Wingeria: 5 Honey-Mustard Boneless Wings, 5 French Fries, 1 Zesty Pesto Dip.
Hot Doggeria: Cheddarwurst, Hoagie Roll, Mayo, Fajita Veggies, Bacon, Large Root Beer, Large Kettle Corn.
Cupcakeria: Liner C, Red Velvet Cake,
1st: Voilet Frosting, Chocolate Chips (X and O Sprinkles), Strawberry (Watermelon) Drizzle, 3 Cloudberries (Frosted Roses)
2nd: Deep Purple Frosting, Vanilla Syrup, Rock Candy, 3 Cherries (Candy Heart).
Ad blocker interference detected!
Wikia is a free-to-use site that makes money from advertising. We have a modified experience for viewers using ad blockers

Wikia is not accessible if you've made further modifications. Remove the custom ad blocker rule(s) and the page will load as expected.