"Please do not mess with this page. It might disrupt the Dawn of time'"
This belongs to Dawniee. "Umm... could you please.. not touch this page... maybe... You may be warned or banned if you make unpermitted major edits.

I kindly ask that you not use any of my FC's unless you have my permission to do so.
Piper
[[|250px]]


Family

Appearances

Cupcakeria (non-customer)
Freezeria HD (non-customer)
Pastaria (non-customer)
Freezeria To Go! (non-customer)
Donuteria (non-customer)
Wingeria HD (non-customer)
Pizzeria To Go! (non-customer)
Cheeseria (non-customer)
Cupcakeria To Go!
Cupcakeria HD

Voiceclaim

Sweetie Belle (My Little Pony: Friendship is Magic)

Additude as Customer

Normal

Birthdate

Sept. 19, 2011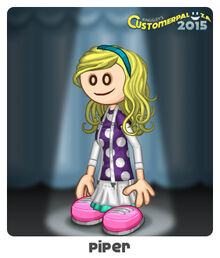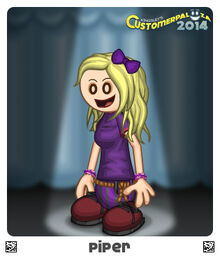 Piper Ambrette Karey Lilly Spotte-Tate is the daughter of
Amber
and
Jason
. Her younger brother is Lukas. She is four years old, but when she was younger (0-3), she does appear in-game, but only when Amber comes, having Piper walking aside her, or in a baby chair when Amber is in the dining room. Now, in Cupcakeria To Go! She appears as her own customer, but, Amber or Jason will always come either before, or after her.  Her favorite holiday is Easter.      
Orders
Cupcakeria To Go!/HD

Cupcake 1

Liner C
Blueberry Cake (Battenburg)
Violet Frosting
Apricot Drizzle
Creameo Bits (Jelly Beans)
Nutty Butter Cup

Cupcake 2

Liner C
Blueberry Cake (Battenburg)
White Frosting
Chocolate Drizzle (Wildberry Shake)
Salted Caramel
Strawberry Wafers (Bunny Ear Candy)
Dawn14

's FCs
Major FCs (Click to Expand/Hide)
Major FCs (Click to Expand/Hide)
Normal FCs (Click to Expand/Hide)
Minor FCs
(Click to Expand/Hide)