The Prismriver Sisters are Poltergiests. They are musicians, and are able to play with out their bodies.. They perform for Yuyuko Saigyouji and Youmu Konpaku. They are also friends with the Hakugyokurou residents. They appeared in Pancakeria.
Lunasa
Lunasa is the oldest sister. She plays the violin. Her BFF and student is Iman.
Pancakeria: 2 chocholate chip waffles, blueberrysyrup, chocholate chips, sugar, Large Coffee with Sugar
Wingeria: 3 teriyaki boneless, 2 spicy garlic wings, 3 red peppers
HotDoggeria: Pumpernickle Bun, It. Sausage, mustard, mushrooms, bacon, Large Lemon Mist, Medium Cheddar Corn
Cupcakeria: 1st Wrapper, Vanilla Cake, White Frosting, Coconut
Pastaria: Gnocci, Creamy Alfredo, mozzarella, Cheesy Bread
Merlin
Merlin is the middle sister. She plays the trumpet. Her BFF and student is Julianna.
Pancakeria: 4 bacon toasts, syrup, blueberries, Small Milk with cocoa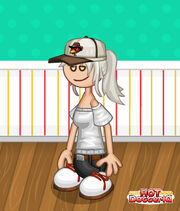 Wingeria: 4 wasabi boneless, 5 green peppers, 1 awesome sauce  
HotDoggeria: Pretzel Bun, Hot Dog, ketchup, onions, mustard, mayo, cheese,  Small Purple Burple, Medium Red Hot Popcorn
Pastaria: Penne, marinara, mozzarella, 4 shrimp, 5 calimari, Garlic Breadstik
Lyrica
Lyrica is the youngest sister. She plays piano. Her BFF and student is Carla Romano.
Pancakeria: 3 pecan pancakes, syrup, cinnamon, 3 bananas, Large CJ with ICE!!!
Wingeria: 4 teriyaki shrimps, 4 fries, 2 mango chili dips
HotDoggeria: Bun, Hot Dog, ketchup, pickle, bacon, 3 tomatoes, Large Fizzo, Large Popcorn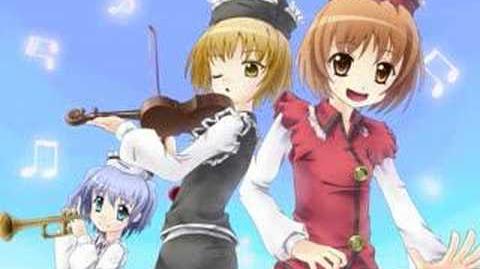 Cupcakeria: 3rd Wrapper, Blueberry Cake, Pink Frosting on Both
CUPCAKE 1: Sprinkles, chocholate chips, 3 cloudberry
CUPCAKE 2: 3 nutty butter Cups
Pastaria: Ravioli, Garlic Basil, 9 chicken, Pepperoni Bread
Doremy Sweet

's FCs
Major FCs
(Click to Expand/Hide)
Minor FCs
(Click to Expand/Hide)
Touhou FCs
(Click to Expand/Hide)
Ad blocker interference detected!
Wikia is a free-to-use site that makes money from advertising. We have a modified experience for viewers using ad blockers

Wikia is not accessible if you've made further modifications. Remove the custom ad blocker rule(s) and the page will load as expected.