Raiko Horikawa is a girl first appearing in Papa's Burgeria. She's a percussionist and drumer like Clover. She likes Christmas.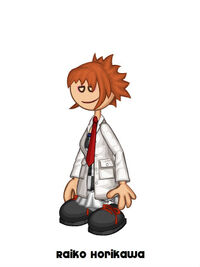 Orders
Burgeria: Bun, BBQ, Welldone Patty, Mayo, Tomato, Top Bun.
Taco Mia: Soft, Chicken, Diced Tomatoes, Diced Onions, Verde Sauce.
Freezeria: L, Blueberries, Vanilla, Regular, Whip Cream, Strawberry Syrup, Sprinkles, x1 cherry, x1 cookie.
Pancakeria: French Toast, Cinnamon, x2 strawberries, Maple Syrup. L Milk w/ Ice.
Wingeria: x3 Parmesan Boneless (left), x3 Atomic Wings (right), x3 red peppers (left), x3 cheese cubes (right), x2 Awesome Sauce.
Hotdoggeria: Chicago Bun, Normal Dog, Salsa, Mayo, Fajita Veggies, Marinara. M Dr Cherry, M Red Hot Popcorn.
Cupcakeria: Liner C, Confetti Cake.                                                                    
Cupcake 1: Red Frosting, Vainilla Drizzle, Strawberry Drizzle, Santa Cookie Drizzle, x2 Gingerbread Man.
Cupcake 2: White Frosting, Chocolate Drizzle, Rock Candy, Santa Cookie Drizzle, x1 Cherry, x2 Candy Presents.
Ad blocker interference detected!
Wikia is a free-to-use site that makes money from advertising. We have a modified experience for viewers using ad blockers

Wikia is not accessible if you've made further modifications. Remove the custom ad blocker rule(s) and the page will load as expected.