"Please do not mess with this page. It might disrupt the Dawn of time'"
This belongs to Dawniee. "Umm... could you please.. not touch this page... maybe... You may be warned or banned if you make unpermitted major edits.

I kindly ask that you not use any of my FC's unless you have my permission to do so.
Rarity
[[|250px]]


Family

Unknown

Occupation

Bakeria Server

Additude as Customer

Normal

Birthdate

May 1st 1988

Rarity LeRoux is a young French girl who works in the Bakeria (originally at the Freezeria, but Papa Louie decided it would be best for her to work at the new place). She first appeared in Freezeria. Her favorite holidays are Valentine's Day (Cupcakeria (To Go/HD) and Donuteria), Gondala 500 (Pastaria), Easter (Cheeseria), Starlight Jubilee (Bakeria), Portalinni Feast (Taco Mia HD), and Christmas (Sushiria).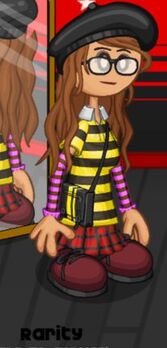 Orders
Freezeria (HD)
Medium Cup (Small in HD)
Strawberries (Cherry Cordials)
Strawberry Syrup (Red Velvet Syrup)
Smooth Blend
Chocolate Whipped Cream
Strawberry Topping
Tropical Charms
Cherry, Cherry, (none)
Pancakeria
Waffle + Bacon Mix
Maple Syrup
Cranberry Juice, S, Ice
Burgeria HD 
Top Bun
Ketchup
Tomato
Pepperjack Cheese
Well Done Patty
Mustard
Bacon
Bottom Bun
Wingeria
12 Atomic Wings
Ranch Dip, Blue Cheese Dip
Hot Doggeria
Pretzel Bun
Kielbasa
Ketchup
Salsa
Tomato, Sport Pepper, Tomato
Large Dr. Pepper
Small Red Hot Popcorn
Cupcakeria (HD/To Go!)
Liner D
Red Velvet Cake (Raspberry White Chocolate)
Red Frosting (Pink)
Strawberry Drizzle (Watermelon)
Rock Candy (X and O Sprinkles)
Cherry, Cloudberry, Cherry
Pastaria
Bowtie  (Gnocchi) (Mafaldine)
Regular
Papa's Marinara Sauce
Crushida Pepper
(Garlic Rush)
(4X Fried Ravioli)
Poppyseed Roll (Garlic Breadstick)
Donuteria (Symmetrical)
Red Velvet
Roll
Red Frosting
Strawberry Drizzle (Red Cinnamon)
Rainbow Sprinkles (Cupidberry Derps)
Cheeseria
Flatbread (Paska Bread)
Asiago Cheese 
Fajita Peppers (Pickled Eggs)
Tomato
Bacon
Ketchup (Hollandaise Sauce)
Light
Bakeria
Red Velvet Crust
1/4 Cherry, 1/4 Peach, 1/4 Strawberry, 1/4 Cherry
Vented Crust (Star Crust)
Chocolate Mousse, Outer Ring
Chocolate Drizzle, Full Pie
Chocolate Mousse Dollops, 9, Inner and Middle Ring (Dipped Strawberries)
Taco Mia HD
Pita Bread (Garlic and Olive Oil Piada)
Pork (Gyro Meat)
Tomatoes
Hot Sauce (Tzatziki Sauce)
Brown Rice
Black Beans

Spicy Twists
Salsa Picante
Sushiria
Shiso Rice
Seaweed (Elf Soy Seaweed) (Flipped)

Shrimp Tempura
Octopus
Carrot

Saba
Furikake
Sriracha (Cranberry Sauce)

Taro Tea (Peppermint Tea)
Lychee Bubbles
Dawn14

's FCs
Major FCs (Click to Expand/Hide)
Major FCs (Click to Expand/Hide)
Normal FCs (Click to Expand/Hide)
Minor FCs
(Click to Expand/Hide)
Ad blocker interference detected!
Wikia is a free-to-use site that makes money from advertising. We have a modified experience for viewers using ad blockers

Wikia is not accessible if you've made further modifications. Remove the custom ad blocker rule(s) and the page will load as expected.