Ravenna



Full Name

Ravenna Alves

She is a girl with an exotic beauty who enchants even those who do not like their style. Being the youngest daughter, she is always protected by their parents... that somehow she doesn't like that. She is always compared to Gabriela, a famous character written by Jorge Amado.
Trivias
She is cousin of Almei and Marybell
She is sister of Alline
Orders
Donuteria- Halloween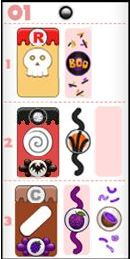 .
Gallery
Ad blocker interference detected!
Wikia is a free-to-use site that makes money from advertising. We have a modified experience for viewers using ad blockers

Wikia is not accessible if you've made further modifications. Remove the custom ad blocker rule(s) and the page will load as expected.