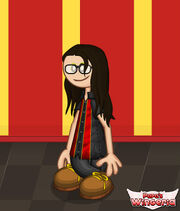 Rebecca is a girl who works at the wingeria. Her best friend is Margie. She hates her twin bro Daniel. She first appeared in Papa Louie: WBA!
Pizza: 10 onions all around, 1 olive, half a meter, 4ths
Burger: Bun, Cheese, Onion, Cheese, Onion, Cheese, Medium Patty, Bun (Same for all 3 versions)
Taco: Pork, Pita, verde sauce, tomatoes, cheese, cheese, nacho sauce
Freezeria: Small, Strawberries, Chocolate Syrup, Smooth, Cream, tropical charms, chocholate chips, tropical charms, cherry
Pancakeria: 4 waffles, chocholate chips, 4 strawberries, Small Milk with Cocoa
Wings: 7 wild onion strips, 7 fries, 3 awesome sauces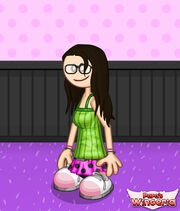 Hot Dogs: Bun, Keilbasa, salsa, salsa, cheese, cheese, pickle, pickle, Small  Dr. Cherry, Small Cinnamon Swirl
Ad blocker interference detected!
Wikia is a free-to-use site that makes money from advertising. We have a modified experience for viewers using ad blockers

Wikia is not accessible if you've made further modifications. Remove the custom ad blocker rule(s) and the page will load as expected.