| | |
| --- | --- |
| | Rebecca Cardoso was voted as the featured customer of the week at some point in the past. |
I shall hunt you down with my neverending moon magic!
This is a property of PsychicEspeon. Don't edit unless you got permission. Grammar errors and other mistakes can be fixed, as long as it doesn't conflict with the existing rules. Over and out.
Rebecca



Full Name

Rebecca Cardoso

Maybe remade her bio no change so much
Trivias
After a long time of happiness, this character was adopted by MintExprezz
She dating Mitch
Her job is in 

Just Quinn and Associates
Papa Louie Arcade
Weapon: Stun gun
Skill: None
Unlock: Level 2 (Need Dash)
Orders
Pizzeria
8 Black Olives
15 minutes
8 cuts
Pancakeria
Pancake
Honey
Pancake
Pancake
Honey
Pancake
Honey
Pancake
Honey
Cinnamon
1X Butter
S Decaf with Sugar
Hot Doggeria
Cheddarwurst
Pumpernickel Bun
Papa's Marinara Sauce
Salsa
Ketchup
Papa's Ballpark Mustard
1X Tomato Wedges (Center)
M Tangerine Pop
M Cinnamon Swirl
Pastaria- Chillifest!
.

.
.. .
.
.
.
.
.
. Donuteria- New Year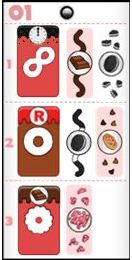 .
.
.
.

..
Cheeseria- Starlight BBQ
Regular Grilled
Texas Toast
PepperJack
Smoked Beef Brisket
Pulled Pork
Philly Steak
Chicken
Southwest Sauce

Waffle Fries
Chili
Fry Seasoning Shaker
Gallery
Ad blocker interference detected!
Wikia is a free-to-use site that makes money from advertising. We have a modified experience for viewers using ad blockers

Wikia is not accessible if you've made further modifications. Remove the custom ad blocker rule(s) and the page will load as expected.