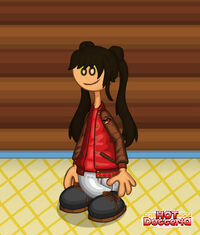 Reimu Hakurei is a Shrine Maiden. She has usual long but simple orders. She is good friends with
Marisa Kirisame
. 
Orders
Pizzeria: 1 Olive, 24 Peppers, 12 Pepperonis. Cooked for 30 minutes, Cut In Fourths.
Burgeria: Bun, Welldone Patty, Cheese, Medium Patty, Pickle, Welldone Patty, BBQ, Medium Patty, Ketchup, Bun.
Taco Mia: Hard, Pork, Jalapeños, Sour Cream, Beans, Sour Cream, Pinto Beans, Loco ? Sauce, Tomato.
Freezeria: L Rainbow Sherbet w/ Blueberries, Regular, Whipped Cream, Blueberry Syrup, Tropical Charms, Blueberry Syrup, Choco Chips, Cookie, Cookie, Cookie, Creameo, Banana, Cherry.
Pancakeria: Choco Chip Pancake, Cinnamon, x3 Butter, Maple Syrup, Bluberry Pancake, Blueberry Syrup. L Tea w/ Sugar.
Wingeria: 4 Parmesan Shrimps, 4 BBQ Boneless, 4 Celeries, 4 French Fries, Kung Pao, Mango Chili, Awesome Sauce.
Hotdoggeria: Pretzel Bun, Normal Dog, Mayo, Salsa, Relish, Ketchup, Marinara Sauce, M Tangerine Pop, M Kettle Corn. 
Cupcakeria: Liner B, Red Velvet Cake, Vainilla Frosting, Watermelon Drizzle, Lollipop Bits, x2 Frosted Roses, x1 Heart Candy. 2nd: Teal Frosting, XO Sprinkles, Watermelon Drizzle, Rock Candy.
Ad blocker interference detected!
Wikia is a free-to-use site that makes money from advertising. We have a modified experience for viewers using ad blockers

Wikia is not accessible if you've made further modifications. Remove the custom ad blocker rule(s) and the page will load as expected.