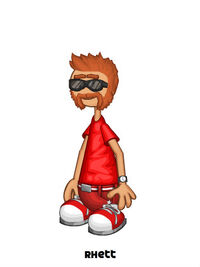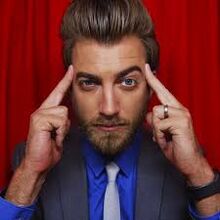 Rhett is a customer that first appears in Burgeria along with Link. 
Orders
Burgeria: Bun, Mayo, Cheese, Mustard, Rare Patty, BBQ sauce, Cheese, Bun.
Taco Mia: Hard, Pork, Peppers, Peppers, Sour Cream, Peppers, Lettuce.
Freezeria: L Cup, Vanilla, Marshmallows, Whipped Cream, Vanilla Syrup, Tropical Charms, x3 Marshmallows.
Pancakeria: x2 Pecan Pancakes, Whipped Cream, Chocolate Chips, x4 Bananas. L Decaf w/ Cream.
Wingeria: x2 Teriyaki Strips (left), x4 Mild Boneless, x4 Cheese Cubes (right), x2 French Fries (right), Awesome Sauce x3.
Hot Doggeria: Pretzel Bun, Cheddarwurst, Ballpark Mustard, Mushrooms, Ballpark Mustard, Mushrooms, Salsa, Bacon. S Diet Fizzo, M Cinnamon Pop.
Cupcakeria: Liner C, Lemon Cake.

Sunglow Frosting, Vanilla Drizzle, Shaved Coconuts, x1 Gingerbread Man, x1 Cookie.
Deep Purple Frosting, Vanilla Drizzle, Shaved Coconuts, Chocolate Chips, Santa Cookie Drizzle, x2 Gingerbread Mans, x1 Cookie (left).

Pastaria: Al-dente Stellini (Fettucine)

Rocket Ragu (3 cheese), Blue Cheese (Mozarella), Mozarella (if not Starlight Jubilee nothing), x6 Provolone Cheese (Tomatoes) x1 Prosciutto (Tomato, making it seven tomatoes), Crescent Roll (Cheesy Bread.
Ad blocker interference detected!
Wikia is a free-to-use site that makes money from advertising. We have a modified experience for viewers using ad blockers

Wikia is not accessible if you've made further modifications. Remove the custom ad blocker rule(s) and the page will load as expected.