Just What do you Think You're Doing,

User

?
This is property of Doremy. Please Do Not Edit Unless you got Specific Permission. However, you may edit Grammar Mistakes and Other Minor Edits.
Rocky is a man. He is Daniel's bro. He first appeared in Papa's Burgeria. He likes playing Touhou, but Daniel thinks it is a "girl" game. He is BFFs with Rebecca, Margie, and Jason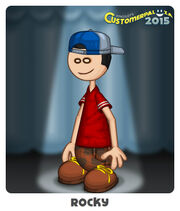 Burger: Bun, Lettuce, Onion, Pickle, Tomato, Well-Done Patty, Medium Patty, Bun
Taco: Soft, Pork, Cheese, hot sauce, sour cream, loco sauce, guacomole. :)
Freezeria: Medium Cup, blueberries, Vanilla Syrup, nuts, chocholate chips, banana
Pancakeria: 1 pancake with pecan mix, syrup, blueberries, 3 butters, 2 bananas, Large Tea with Sugar
Wingeria: 8 wild onion boneless, 2 red peppers, 2 green peppers, 2 fries, 2 green peppers, kung pao
Hotdoggeria: Chicago Bun, Veggie Dog, relish, relish, relish, wild onion sauce, bacon, pickle, Small Hyper Green, Medium Kettle Corn
Cupcakeria: Soon
Pastaria: Soon
Donuteria: Soon
Doremy Sweet

's FCs
Major FCs
(Click to Expand/Hide)
Minor FCs
(Click to Expand/Hide)
Touhou FCs
(Click to Expand/Hide)
Ad blocker interference detected!
Wikia is a free-to-use site that makes money from advertising. We have a modified experience for viewers using ad blockers

Wikia is not accessible if you've made further modifications. Remove the custom ad blocker rule(s) and the page will load as expected.