WARNING!
This page is made by XxBlazingDragonxX. Do not edit without permission.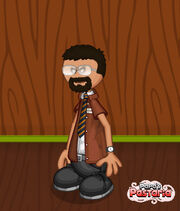 Roger is a director from Starlight City. He is planning on directing the movie "I want you back" starring Zack and other actors. He first planned on directing "The Mysterious Daisy" and "Trouble at Sea" but he is very strict and chooses his work very, very wisely. When he first got the story from Cody for both of the films, he thought that the story could have used a little more twists but Cody refused. He is very good friends with John because they both went to the same University and both took Directing as a career. His orders are very complex and contain chocolate. He is absent in Pastaria because he was too busy trying to decide the cast for "I want you back."
Orders
Wingeria
6 Teriyaki Shrimp
1 French Fry
1 Carrot
1 Red Pepper
1 Green Pepper
1 Celery
1 Cheese Cube
Zesty Pesto Dip
Hot Doggeria
Cheddarwurst
Pumpernickel Bun
Mushrooms
Fajita Veggies
Bacon
Wild Onion Sauce
Small Purple Burple
Large Chocolate Corn
Cupcakeria (Standard Order) (All ingredients are same for both Cupcakes)
Liner C
Chocolate Cake
Chocolate Frosting
Creameo Bits
Chocolate Chip bits
Chocolate Drizzle
Nutty Butter Cup (Middle)
Ad blocker interference detected!
Wikia is a free-to-use site that makes money from advertising. We have a modified experience for viewers using ad blockers

Wikia is not accessible if you've made further modifications. Remove the custom ad blocker rule(s) and the page will load as expected.