WARNING!
This page is made by XxBlazingDragonxX. Do not edit without permission.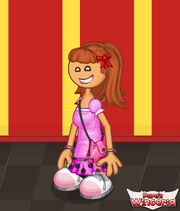 Rosie is a girl from Calypso Island. She won a beauty pageant. She is also a model. Her orders have pink and purple things. She is absent in Hot Doggeria because she is allergic to mustard and ketchup
Orders
Freezeria:
Medium Cup
Strawberry Syrup
Yum 'n' Ms
Regular Blend
Strawberry Syrup
Sprinkles
Tropical Charms
Gummy Onion (Left)
Cherry (Middle)
Gummy Onion (Right)
Pancakeria:
2 Blueberry Waffles
Raspberry's
Maple Syrup
x4 Strawberries
Berries
Orange Juice with Ice
Wingeria:
4 Wild Onion Strips
4 Calypso Island Boneless Wings
4 Cheese Cubes
Zesty Dip
Ad blocker interference detected!
Wikia is a free-to-use site that makes money from advertising. We have a modified experience for viewers using ad blockers

Wikia is not accessible if you've made further modifications. Remove the custom ad blocker rule(s) and the page will load as expected.