WARNING!
This page is made by XxBlazingDragonxX. Do not edit without permission.
Ross is a teenage boy who loves green. His debut is Freezeria. He is absent in Pancakeria. His favourite holiday is St. Patricks Day!
Orders
Freezeria: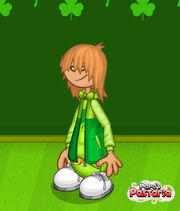 Large Cup
Marshmallows
Mint Syrup
Smooth Blend
Regular Whipped Cream
Shaved Mints
Banana (Middle)
Wingeria:
4 Medium Boneless Wings
6 Teriyaki Shrimps
Ranch Dip
Hot Doggeria:
Veggie Dog
Pretzel Bun
Relish
Fajita Veggies
3x Sport Peppers
Large Hyper Green
Medium Kettle Corn
Ad blocker interference detected!
Wikia is a free-to-use site that makes money from advertising. We have a modified experience for viewers using ad blockers

Wikia is not accessible if you've made further modifications. Remove the custom ad blocker rule(s) and the page will load as expected.