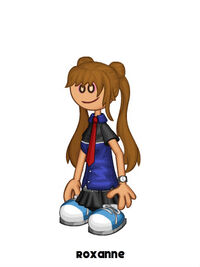 Roxanne is a girl based off the Gym Leader with the same name in Pokemon (3rd gen). She is specialized in Rock Type.
Orders
Burgeria: Bun, Welldone Patty, Welldone Patty, Ketchup, Tomato, Ketchup, Welldone Patty, Bun.
Taco Mia: ABSENT
Freezeria: M, NBC, Vanilla, Smooth, Whip Cream, Chocolate Chips, Vanilla Syrup, x3 Cookies.
Pancakeria: Pecan Waffle, Cinnamon, Pecan Waffle, Cinnamon, Pecan Waffle, Cinnamon, x3 Bananas. L Tea w/ Sugar.
Wingeria: x3 Atomic Boneless, x6 Teriyaki Strips, x9 Celeries, x6 Green Peppers, Awesome Sauce.
Hotdoggeria: Pretzel Bun, Kielbasa, Ballpark Mustard, Onion, Salsa, Ballpark Mustard. L Tangerine Pop, M Cinnamon Swirl.
Cupcakeria: COMING SOON
Freezeria HD: COMING SOON
Ad blocker interference detected!
Wikia is a free-to-use site that makes money from advertising. We have a modified experience for viewers using ad blockers

Wikia is not accessible if you've made further modifications. Remove the custom ad blocker rule(s) and the page will load as expected.