Just What do you Think You're Doing?
This is property of Doremy. Please Do Not Edit Unless you got Specific Permission. However, you may edit Grammar Mistakes and Other Minor Edits.
Sakuya Izayoi is a Touhou character who debuted in Papa's Burgeria. She is the maid at Remilia's Mansion. She can manipulate time, as well as space. Her favorite Holiday is Summer Luau
Orders
Burger (And HD): Bun, Medium Patty, Tomato, (american)Cheese, (american)Cheese, Rare Patty, Bun
Burger To Go: Bun, Medium Patty, Fried Egg, Tomato, Tomato, Tomato, Pepperjack Cheese, Bun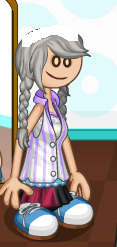 Taco: Pita, Chicken, cheese, cheese, cheese, cheese, hot sauce, onions
Freezeria: Medium Cup, Nutty Butter Cups, Chocholate Syrup, Smooth, Chocholate Cream, Chocholate Syrup, Strawberry syrup, nuts      
Pancakeria: ABSENT
Wingeria: 5 parmesan wings, 3 fries to the right, 2 green peppers to the left
Hotdoggeria: Chicago Bun, Hot Dog, Ketchup, Ballpark Mustard, Ballpark Mustard, Mayo, Ballpark Mustard, Small Dr. Cherry, Small Kettlecorn
Cupcakeria: ABSENT
Pastaria: Gnocchi, Marinara (or pineapple or curry), mozzarella, pepperoni bread
Donuteria: Pumpkin Cake 3x, 3 rings (Waffle, egg, skull or heart) Sky Blue Frosting 3x, Blue Moon Drizzle 3x]
Cheeseria: White Bread, Pepperjack Cheese, Ham (Pineapple), Bacon, Salami, Waffle Fries with ranch
Doremy Sweet

's FCs
Major FCs
(Click to Expand/Hide)
Minor FCs
(Click to Expand/Hide)
Touhou FCs
(Click to Expand/Hide)
Ad blocker interference detected!
Wikia is a free-to-use site that makes money from advertising. We have a modified experience for viewers using ad blockers

Wikia is not accessible if you've made further modifications. Remove the custom ad blocker rule(s) and the page will load as expected.