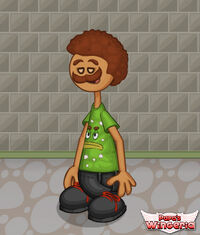 Sebastian is a wacky guy who loves afros. He's a closer in Taco Mia! and Pancakeria.
Orders
Burgeria: Bun, Welldone Patty, Pickle, Pickle, Mustard, Pickle, Ketchup, Bun.
Taco Mia! (CLOSER): Pita, Steak, Pinto Beans (X2), Verde Sauce.
Freezeria: L, Marshmallows, Vainilla, Chunky, Whipped Cream, x2 Creameo (middle space is left)
Pancakeria (CLOSER): X6 Pecan Toasts, x12 bananas. L Cranberry Juice w/ Ice.
Wingeria: x3 BBQ Boneless, x3 Parmesan Shrimp, x9 carrots, x6 red peppers, ranch dip.
Hotdoggeria: Pumpernickel Roll, Hotdog, Mushrooms, Cheese, Salsa, x1 Tomato, x1 Pepper, Bacon. M Diet Fizzo, M Red Hot Popcorn.
Cupcakeria: St. Paddy's Day Liner, Vanilla Batter, Strawberry Frosting, Chocolate Syrup. 2nd cupcake: Chocolate Frosting, Chocolate Chips, Chocolate Syrup.
Trivia
He's pretty patient in Pancakeria for being a closer.
Ad blocker interference detected!
Wikia is a free-to-use site that makes money from advertising. We have a modified experience for viewers using ad blockers

Wikia is not accessible if you've made further modifications. Remove the custom ad blocker rule(s) and the page will load as expected.