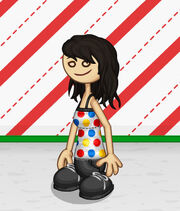 Sky is a 16 year old girl. Sky is based on Sky of Total Drama: Pahkitew Island. Sky made her debut in Papa's Pastaria. Her favorite holiday is New Year.
Orders
Pastaria
Bowtie (Rainbow Gramigma)
Creamy Alfredo
Black Pepper (Rainbow Peppercorn)
Crescent Roll
Donuteria
Donut 1

Regular
Ring (Infinity Ring)
Strawberry Icing
Banana Drizzle
(Countdown Crunch)

Donut 2

Chocolate
Round
Cookie Dough Cream (Tutti Frutti)
Clear Glaze
Chocolate Chips
Dreamsicle Drizzle (Flavor X)

Donut 3

Regular
Ring
Vanilla Icing
Vanilla Drizzle
Ad blocker interference detected!
Wikia is a free-to-use site that makes money from advertising. We have a modified experience for viewers using ad blockers

Wikia is not accessible if you've made further modifications. Remove the custom ad blocker rule(s) and the page will load as expected.