Soga no Tojiko (or Toziko) is a Ghost who is Friends with Seiga Kaku, Mononobe no Futo, & Toyosatomimi no Miko.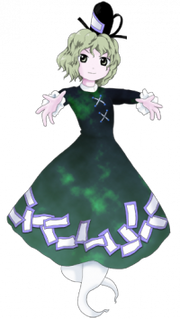 She has a Kanmuri Style hat.  She debuts in Burgeria
Orders
Burgeria: Bun, Rare Patty, Mayo, Rare Patty, Cheese, Bun.
Taco Mia: Pita, Chicken, Sour Cream, Lettuce, Sour Cream, Cheese.
Freezeria: L, Marshmallows, Vanilla, Smooth, Whip Cream, Tropical Charms, Banana.
Pancakeria: x3 Pecan Pancakes with Blueberries in every one of them, and Cinnamon (final). S Tea w/ Cream.
Burgeria Ipad: Bun, Rare Patty, Awesome Sauce, Rare Patty, Swiss Cheese, Mayo, Bun.
Wingeria: 12 Parmesan Wings, 6 Celeries, x4 Blue Cheese.
Hotdoggeria: Pretzel Bun, It. Sausage, Mayo, Relish, Mayo, Fajita Veggies. L Lemon Mist w/ S RHP.
Ad blocker interference detected!
Wikia is a free-to-use site that makes money from advertising. We have a modified experience for viewers using ad blockers

Wikia is not accessible if you've made further modifications. Remove the custom ad blocker rule(s) and the page will load as expected.