WARNING!
This page is made by XxBlazingDragonxX. Do not edit without permission.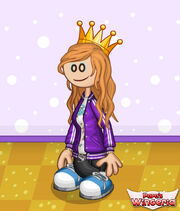 Sophie is a teenager from Starlight City. She debuted in Wingeria and has no absents so far. Her orders usually contain junk food. She likes cotton puffs.
Orders
Wingeria:
2 Atomic Boneless Wings
3 Buffalo Wings
2 Carrots
2 Fries
Ranch Dip
Awesome Sauce Dip
Hot Doggeria:
Hot Dog
Hoagie Roll
Papa's Ballpark Mustard
Wild Onion Sauce
Ketchup
Mustard
Mayo
3x Sport Peppers
Medium Purple Burple
Large Cotton Puffs
Ad blocker interference detected!
Wikia is a free-to-use site that makes money from advertising. We have a modified experience for viewers using ad blockers

Wikia is not accessible if you've made further modifications. Remove the custom ad blocker rule(s) and the page will load as expected.