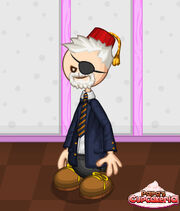 Stan Pines is an old man who is the grunkle (great uncle) of
Dipper
and
Mabel
. He is the founder of the Mystery Shack. He mainly rips people off and is a cheapskate, so he will not tip as much as other customers. His favorite holiday is Halloween. Stan is absent in Pancakeria.
Orders
Pizzeria:
4 Anchovies
Cooked for 40 mins
cut to 4ths
Burgeria (HD and To Go!)
Top Bun
Mayo
Lettuce
Onion
Onion
Onion
Lettuce
Rare Patty
Bottom Bun
Taco Mia
Pita Shell
Chicken
Lettuce
Tomatoes
Nacho Cheese
Freezeria
Small Cup
Blueberries
Strawberry Syrup
Smooth Blend
Whipped Cream
Pancakeria
ABSENT
ABSENT
ABSENT
ABSENT
Wingeria
4 Honey Mustard Strips
4 Red Peppers
(no dip)
Hot Doggeria
Hoagie Roll
Kielbasa
Mayo
Relish
S Dr. Cherry, S Kettle Corn
Cupcakeria (Symmetrical)
Liner D
Lemon Cake
Black Frosting
Creameo Bits
Spooky Sprinkles
Candy Jack O Lantern, Cherry, Candy Jack O Lantern
Ad blocker interference detected!
Wikia is a free-to-use site that makes money from advertising. We have a modified experience for viewers using ad blockers

Wikia is not accessible if you've made further modifications. Remove the custom ad blocker rule(s) and the page will load as expected.