Just What do you Think You're Doing,

User

?
This is property of Doremy. Please Do Not Edit Unless you got Specific Permission. However, you may edit Grammar Mistakes and Other Minor Edits.
Not confused with Stephanie LeBlanc.
Stephanie
is a girl who lived in Maple Mountain all of her life. Her favorite food is bacon with toast. Her favorite holiday is the Summer Luau. She is a student at
Tastyville Central High School
. Her favorite holidays is Summer Luau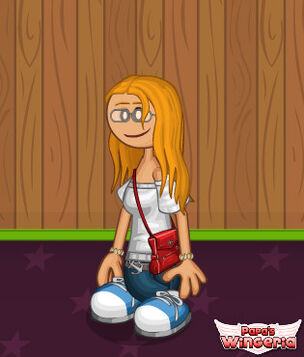 Bio
Stephanie is a student at Tastyville High School. She is kind of lazy about homework, so it makes her very stressed. This stress makes her so nervous, so she sometimes skips her homework for the night and does it in the morning. However, outside of school, she is very nice, but prefers doing her own thing.
Orders
Pizzeria: 8 Pepperonis all around, 2 Olives in the down-right corner, Cook 3/4, Cut into 6ths
Burgeria: Bun, Medium Patty, Medium Patty, Lettuce,Tomato, bun
Taco Mia: Hard Taco, Chicken, Lettuce, Nacho Cheese, Mild sauce
Freezeria: Large Cup, Pineapple, Mint Syrup, Regular, Whipped Cream, Sprinkles, Tropical Charms, Cherry
Pancakeria, 3 french toasts with bacon mix, syrup, rasperries, powdered sugar, honey, Small cranberry juice with ice
Wingeria: 4 Wild Onion Wings, 8 Parmesan Wings, Zesty Peso Dip
Hot Doggeria: Chicago Bun, Cheddarwurst, chili, salsa, onions, mustard, mustard, bacon, Medium Dr. Cherry, Large Candy Jack
Cupcakeria: Liner C, Vanilla Cake, Cupcake 1: Green Frosting, Rainbow Sprinkles (Tropical Charms), 3 Nutty Butter Cups (Gummy Pineapple), Cupcake 2: Blue Frosting, Chocolate Drizzle (Honey Drizzle), Strawberry Drizzle, Cloudberry
Pastaria: Penne, (Shells), Papa's Marinara (Pineapple Pancetta), Mozzarella, 4 chicken, Garlic Breadstick
Donuteria:
Donut 1:
Blueberry Ring (Seashell),Cinnamon Sugar (Yellow icing, Maple Icing During Maple Mornings), Blue Moon Drizzle (Mango Drizzle), Mini-Mallows,
Donut 2:
Blueberry Roll Shape, Chocolate, Cookie Dough Cream (Maui Merengue), Cosmic Coconut (Tropical Charms), Banana Drizzle,
Donut 3:
Red Velvet Long John (Seashell), Clear Glaze (Blue Icing During Starlight Jubilee), Chocolate Drizzle (Luau Punch Drizzle), Chocolate Chips (Tropical Charms), Creameo bits

Cheeseria: Flatbread (Hawaiian Roll), Aged Gouda, Lettuce, Tomato (Pineapple), Buffalo Sauce (Calypso Sauce), Pulled Pork, French Fries with Nacho Cheese and Jalapenos
Doremy Sweet

's FCs
Major FCs
(Click to Expand/Hide)
Minor FCs
(Click to Expand/Hide)
Touhou FCs
(Click to Expand/Hide)
Ad blocker interference detected!
Wikia is a free-to-use site that makes money from advertising. We have a modified experience for viewers using ad blockers

Wikia is not accessible if you've made further modifications. Remove the custom ad blocker rule(s) and the page will load as expected.