Just What do you Think You're Doing?
This is property of Doremy. Please Do Not Edit Unless you got Specific Permission. However, you may edit Grammar Mistakes and Other Minor Edits.
Suika Ibuki is an Oni from Maple Mountain. Her BFF is 
Yuugi Hoshiguma
. She is also friends with 
Reimu Hakurei
. She first appears in Papa's Pancakeria. She LOVES to drink sake (japanese alcoholic beverage made with rice) and always gets drunk from it. Her orders are usually large

Orders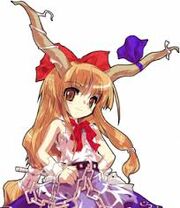 Pancakeria: Bacon Pancake, syrup, honey, bacon pancake, chocolate chips, pecan pancake, 4 strawberries, rasperries, Large OJ with Ice
Wingeria: 2 medium boneless to the right, 2 wasabi strips to the right, 2 barbeque wings to the left, 2 teriyaki shrimps to the left, 3 kung pao dips
Hot Doggeria: Pretzel Bun, Keilbasa, relish, onions, 3 sport peppers, pickle, Large Diet Fizzo, Medium Cheddar Corn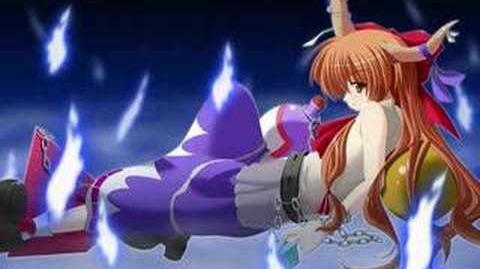 Cupcakeria (CLOSER): 4th Wrapper, Red Velvet Cake, CUPCAKE 1: Orange Frosting, assorted holiday sprinkles, vanilla drizzle, 3 marshmallows CUPCAKE 2: White Frosting, sprinkles, chocholate drizzle, 3 cherries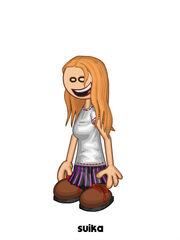 Pastaria: Fettuccine, Garlic Basil, crushida pepper, 9 sausages, garlic breadstick
Doremy Sweet

's FCs
Major FCs
(Click to Expand/Hide)
Minor FCs
(Click to Expand/Hide)
Touhou FCs
(Click to Expand/Hide)
Ad blocker interference detected!
Wikia is a free-to-use site that makes money from advertising. We have a modified experience for viewers using ad blockers

Wikia is not accessible if you've made further modifications. Remove the custom ad blocker rule(s) and the page will load as expected.