Just What do you Think You're Doing,

User

?
This is property of Doremy. Please Do Not Edit Unless you got Specific Permission. However, you may edit Grammar Mistakes and Other Minor Edits.
Talya is a woman. She first appeared in Papa's Pancakeria. She used to be an electrician, but she hated her life and purposely got electrocuted and died. She is a ghost. She was trasladed to  
Hakugyokurou
 with 
Logan
. She lives there, but she gets out during the day. She is friends with
Abigail
. Her favorite holiday is Halloween.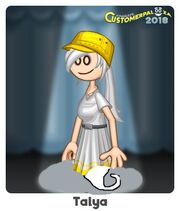 Orders
Pancakeria: French Toast 3x, cinnamon, sugar, syrup, raspberries, blueberries, Small Decaf with ice
Wingeria: 5 parmesan wings, 4 red peppers, 4 fries, zesty pesto dip
Hotdoggeria: Pretzel Bun, Cheadderwurst, ballpark mustard, relish, mayo, hot sauce, salsa, Small Hyper Green, Medium Cinnamon Swirl
Cupcakeria: Liner A, Chocolate Cake, Cupcake 1: Orange Frosting, Strawberry Drizzle (Licorice Drizzle), Cupcake 2: Black Frosting, Lollipop Bits (Spooky Sprinkles), Cloudberry (Candy Corn), Marshmallow (Jack-o-Lantern Candy), Cloudberry (Candy Corn)
Pastaria: Gnocchi, Papa's Marinara (Purple Pesto), Grated Parmesan (Cauldron Powder), 4 Onions (Mussels), 4 Clams, 1 Mushroom
Donuteria: Donut 1: Chocolate Long John, Orange Icing, Blackberry Jelly, Dreamsicle Drizzle (Peanut Butter Drizzle), Crushed Peanuts, Donut 2: Vanilla Round (Skull), Vanilla Drizzle, Whipped Cream (Brownie Batter), Mini-Marshmallows (Spooky Sprinkles), Donut 3: Blueberry Ring (Skull), Strawberry Icing (Full Moon Icing), Lemon Chiffon (Brownie Batter), Crushed Peanuts, Cosmic Coconut
Cheeseria: Wheat Bread (Ecto Bread), Gorgonzola Cheese, Awesome Sauce (Jackmomole), Shredded Lettuce (Spooky Slaw), Pulled Pork, Southwest Sauce, Deep-Fried Pickles, French Fries with Nacho Cheese and Sour Cream
Doremy Sweet

's FCs
Major FCs
(Click to Expand/Hide)
Minor FCs
(Click to Expand/Hide)
Touhou FCs
(Click to Expand/Hide)
Ad blocker interference detected!
Wikia is a free-to-use site that makes money from advertising. We have a modified experience for viewers using ad blockers

Wikia is not accessible if you've made further modifications. Remove the custom ad blocker rule(s) and the page will load as expected.