Just What do you Think You're Doing,

User

?
This is property of Doremy. Please Do Not Edit Unless you got Specific Permission. However, you may edit Grammar Mistakes and Other Minor Edits.
Terence is a man who first appeared in Papa's Donuteria. He likes to wander aimlessly around town. He is a closer. His favorite holiday is Maple Mornings (Donuteria and Cheeseria)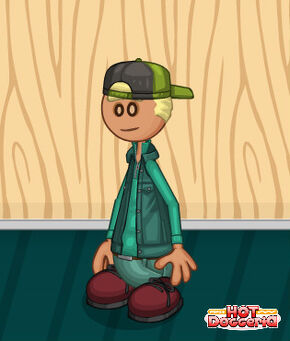 Orders
Donuteria: Donut 1: Blueberry Roll (Waffle), Orange Icing, Cookie Dough, Cosmic Coconut, Blue Moon Drizzle (Butterscotch Drizzle), Donut 2: Blueberry Ring (Waffle), Strawberry Icing (Maple Icing), Rainbow Sprinkles (Bacobites), Mini-Marshmallows, Donut 3: Blueberry Round (Waffle), Sky Blue Icing, Strawberry Jelly (Mocha Cream), Vanilla Drizzle (Honey Drizzle)
Cheeseria: Rosemary Foccacia (Cinnamon Toast), Asiago Cheese (Maple Jack Cheese), Sliced Ham (Maple Mini Sausages), Mustard (Maple Syrup), Honey Mustard, Fajita Peppers, Waffle Fries with Chives and Sour Cream
.
Doremy Sweet

's FCs
Major FCs
(Click to Expand/Hide)
Minor FCs
(Click to Expand/Hide)
Touhou FCs
(Click to Expand/Hide)
Ad blocker interference detected!
Wikia is a free-to-use site that makes money from advertising. We have a modified experience for viewers using ad blockers

Wikia is not accessible if you've made further modifications. Remove the custom ad blocker rule(s) and the page will load as expected.