Tess
[[|250px]]


Family

none comfirmed

Occupation

Appearences

Papa Louie: When Pizzas Attack!
Papa's Pizzeria
Papa's Burgeria
Papa's Taco Mia!
Papa's Freezeria
Papa's Pancakeria
Papa's Burgeria HD
Papa's Wingeria
Papa's Hot Doggeria
Papa's Burgeria To Go!
Papa Louie SE: TVotFC

Additude as Customer

Normal

Favorite Foods

Vanilla, Cheese

Favorite Colors

Purple, Yellow, Cyan, Brown

Schedule

to be added

Too many parameters
Tess Anne Pancare is a young girl. She works at the Hot Doggeria, and she first appeared in PL:WPA. Her favorite holidays are Thanksgiving (Cupcakeria), Neptune's Feast (Pastaria), Easter (Donuteria), and Portalinni Feast (Cheeseria)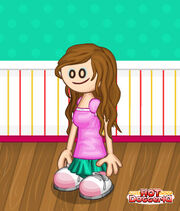 Orders
Pizzeria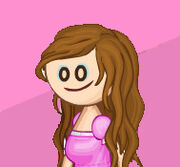 4 Green Peppers
4 Olives
Cooked for 5 min
Cut into 4ths
Burgeria
Top Bun
Mustard
Cheese
Mayo
Well Done Patty
Bottom Bun
Taco Mia!
Soft Shell
Chicken
Guacomole
Lettuce
Onions
Verde Sauce
Nacho Cheese
Freezeria
Small Cup
Yum 'n' M's
Rainbow Sherbert
Smooth Blend
Whipped Cream
Blueberry Topping
Creameo(x3)
Pancakeria
Waffle
Waffle
Maple Syrup
Waffle
Blueberries
Orange Juice, S, Ice
Burgeria HD
Top Bun
Awesome Sauce
American Cheese
Mayo
Well Done Patty
Bacon
Bottom Bun
Wingeria
4 Wasabi Shrimp
8 Fries
Ranch Dip
Hot Doggeria
Pretzel Bun
Veggie Dog
Mustard
Onions
Fajita Veggies
Relish
S Diet Fizzo
S Chocolate Corn
Burgeria To Go!
Top Bun
Awesome Sauce
American Cheese
Mayo
Well Done Patty
Bacon
Fried Egg
Bottom Bun
Cupcakeria
Liner A
Vanilla Cake
White Frosting
Vanilla Drizzle/Pumpkin Pie Drizzle
Rainbow Sprinkles/Autumn Leaves Sprinkles
Cherry
Pastaria
Penne (Bowtie if not yet unlocked) (Gnocchi if not yet unlocked) (Crab Mezzulene During Neptune's Feast)
Al Dente
Garlic Basil Sauce
3x Clam
5x Fried Calamari
Garlic Breadstick
Donuteria
Regular
Ring
Clear Glaze

Donut 1

Vanilla Drizzle (Pink Lemonade)
Rainbow Sprinkles (Jelly Beans)

Donut 2

Blue Moon Drizzle (Wildberry Shake)
Mini-Mallows

Donut 3

Strawberry Drizzle
Rock Candy
Cheeseria
Sourdough Bread
Asiago Cheese (Ricotta Cheese)
Fried Egg (None during Portallini Feast)
Deep Fried Pickles (Meatballs)
Bacon
Ranch Dressing (Papa's Marinara)
Light
Ad blocker interference detected!
Wikia is a free-to-use site that makes money from advertising. We have a modified experience for viewers using ad blockers

Wikia is not accessible if you've made further modifications. Remove the custom ad blocker rule(s) and the page will load as expected.