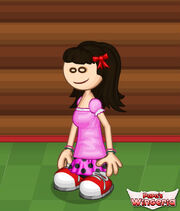 Tewi Inaba is a Youkai rabbit from Touhou. Her BFF is
Reisen Inaba
. She is also friends with
Kaguya Houraisan
. She debuted in Burgeria, like her sister/friend Reisen. She is also friends with
Eirin Yagokoro
. Her ability is to grant good luck to people.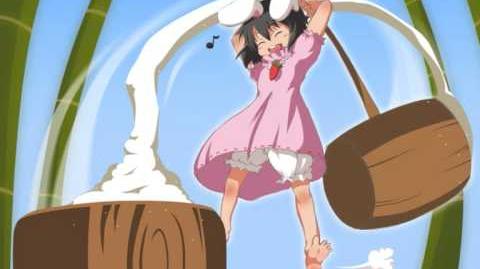 Orders
Burgeria: Bun, Well-Done Patty, cheese, Well-Done Patty, Cheese, Tomato, Bun
Taco: Pita, Pork, cheese, tomatoes, verde sauce, loco sauce
Freezeria: Large Cup, Strawberries, Strawberry Syrup, Smooth, Chocholate cream, strawberry syrup, 3 cherries
Pancakeria: Absent
Papa's Burgeria To Go and HD: Bun, Well-Done Patty, Awesome sauce, tomato, swiss cheese, bun
Wingeria: 2 wild onion sauce wings, 2 wasabi wings, 2 teriyaki boneless, 2 celeries, 2 kung pao dips
HotDoggeria: Pretzel Bun, It. Sausage, Ketchup, sauerkraut, mayo, Small Purple Burple, Small Cheddar Corn
Ad blocker interference detected!
Wikia is a free-to-use site that makes money from advertising. We have a modified experience for viewers using ad blockers

Wikia is not accessible if you've made further modifications. Remove the custom ad blocker rule(s) and the page will load as expected.