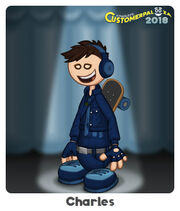 The Everdeen brothers are twins. They love watching The Hunger Games and sometimes, cosplay as the characters during halloween. They almost look like the same. Some people think that Henry (or Charles) is cloned. They have Katniss (coming soon, I need an avatar) as their cousin. They were also cursed by Cyrus, and they are now sleeping forever. 
They occasionally order, but it is Martin who order.
Orders
Henry's orders the same as Charles (no offence, Dawn14.)
Pizzeria
12 pepperoni all around
cooked for 45
slices into tenths
Burgeria (HD, Desktop and To Go!)
well-done patty
cheese
lettuce
tomato
onion
well-done patty
Taco Mia
hard
chicken
cheese
nacho cheese
lettuce
Freezeria (HD and Desktop)
Pancakeria to Pastaria:
History
They were born on District 11 on the Ding-Dong street. But, right after birth, their parents chose to tribute on The Hunger Games. Unfortunately, they lost, leaving them unable to do anything. Fortunately, at age 4, Martin visited them and implanted a chip on their heads, making them smart. They worked on the Pastaria and homeschooled. But, they were evil cursed by Cyrus on their home,
Trivia
They are absent on the Freezeria due Cyrus's curse
They like weapons and sometimes, accidentally kill people.
They come in different looks on Halloween.
They like sitting on the dining room.
People, as mentioned by Dawn14, will get confused when they actually set foot on the Flipverse.
They are not actually based off on a movie characters, but their surname (Everdeen) is based from The Hunger Games.
Ad blocker interference detected!
Wikia is a free-to-use site that makes money from advertising. We have a modified experience for viewers using ad blockers

Wikia is not accessible if you've made further modifications. Remove the custom ad blocker rule(s) and the page will load as expected.