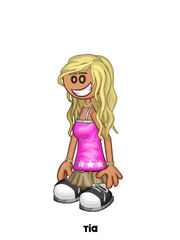 Tia first appears in Papa's Burgeria. She is best known for her short stories and her small publishing business. She attends Frostfield Academy and has a degree in Art & Design. She is also a keen drawer and designer. She has made many dresses for the residents of Frostfield. She is 15 years old and  dreams to become either an author or a fashion designer.
Attitude
Tia is an outgoing person but also loves to sit in her room and let her imagination spill onto paper. She is shy on reading her work in school but when she isn't in school she can be very confident and polite. She talks a lot in school but makes up for it with astonishing work! People often describe her as thoughtful, kind and trustworthy. She doesn't drink too much energy drinks as she can become very tired and sore. She doesn't over-react and has a long-temper. The only time she has become REALLY mad was when her best friend was being bullied by this big girl.
Orders
Papa's Burgeria
Top Bun
Ketchup
Cheese
Well Done Patty
Ketchup
Well Done Patty
Lettuce
Bottom Bun
Papa's Taco Mia!
Beef
Hard Shell
Lettuce
Cheese
Hot Sauce
White Rice
Guacamole
Papa's Freezeria
Medium Cup
Cookie Dough
Vanilla Syrup
Chunky
Whipped Cream
Rainbow Sprinkles
Blueberry Syrup
Chocolate Chips
Nothing/Cherry/Nothing
Papa's Pancakeria
Chocolate Chip Waffle
Chocolate Chip Pancake
Chocolate Chip French Toast
Whipped Cream
Maple Syrup
Raspberries
Chocolate Chips
4x Banana
Milk w/ Cocoa
Papa's Wingeria
4x Calypso Boneless Wings (Rotational)
4x BBQ Strips (Rotational)
Zesty Pesto and Mango Chilli Dip
Papa's Hot Doggeria
Regular Bun
Hot Dog
Chilli
Marinara Sauce
Ketchup
3x Tomato Wedges
Bacon
Large Lemon Mist
Medium Cotton Puffs
Papa's Cupcakeria
FAVOURITE SEASON = Christmas
CUPCAKE A:
White Icing / Forest Green Icing
Vanilla Drizzle / Santa Cookie Drizzle
Chocolate Chips 
Cremeo Bits / Crushed Candy Canes
3x Marshmallow / 3x Candy Present
CUPCAKE B:
Teal Icing / Red Frosting
Vanilla Drizzle
Cremeo Bits
Cloudberry - Cherry - Cloudberry / Gingerbread Man - Tree Cookie - Gingerbread Man
Papa's Pastaria
FAVOURITE SEASON = Thanksgiving
Al Dente Ravioli / Harvest Tortellini
Papa's Marinara Sauce
Parmesan Cheese
Mozzarella Cheese
Crushida Pepper
9x Meatballs
Garlic Breadstick
Papa's Burgeria To Go / HD
Same as Burgeria but Add Bacon between Cheese and Ketchup
Papa's Freezeria HD
Large Cup
Cotton Puffs
Blue Moon Syrup
Smooth
Whipped Cream
Wildberry Derps
Butterscotch Syrup
Waffle Cone/Cremeo/Cookie/Waffle Cone
​Papa's Freezeria To Go!
Ad blocker interference detected!
Wikia is a free-to-use site that makes money from advertising. We have a modified experience for viewers using ad blockers

Wikia is not accessible if you've made further modifications. Remove the custom ad blocker rule(s) and the page will load as expected.