Just What do you Think You're Doing,

User

?
This is property of Doremy. Please Do Not Edit Unless you got Specific Permission. However, you may edit Grammar Mistakes and Other Minor Edits.
Tiffany is a sporty girl who first appeared in Papa's Freezeria. She won a gold medal for swimming in the 2012 Olympics, She is soon going to Sochi to participate in luge and snowboarding for the 2014 winter olympics. She won gold in Both of them. Her grandma is 
May
.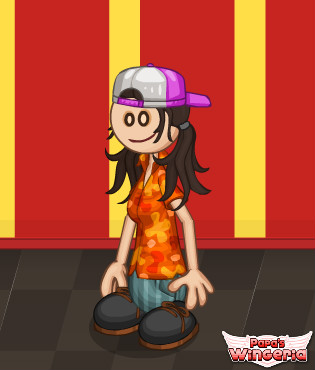 Orders
Freezeria
Large Cup
Yum & Ms
Vanilla Syrup
Medium
Cream
sprinkles
chocholate chips
cookie
creameo
Pancakeria
Bacon Pancake
Bacon Waffle
Bacon French toast
rasperries
Cinnamon
sugar
Small Chocholate Milk
Wingeria
4 Calypso shrimps
2 celeries
2 red peppers
2 carrots
2 green peppers
Hotdoggeria
Pretzel Bun
It. Sausage
ketchup
Saurkraut
marinara sauce
salsa
hot sauce
Small Lemon Mist
Medium Cocoa Corn
Cupcakeria:
Any Wrapper
Blueberry Cake
CUPCAKE 1:
Teal Frosting
Rock Candy
3 cloudberries
CUPCAKE 2:
Pink Frosting
sprinkles
coconut
Pastaria:
Spaghetti
Marinara Sauce
Mozzarella
4 Chicken
5 Sausage
Pepperoni Bread
Doremy Sweet

's FCs
Major FCs
(Click to Expand/Hide)
Minor FCs
(Click to Expand/Hide)
Touhou FCs
(Click to Expand/Hide)
Ad blocker interference detected!
Wikia is a free-to-use site that makes money from advertising. We have a modified experience for viewers using ad blockers

Wikia is not accessible if you've made further modifications. Remove the custom ad blocker rule(s) and the page will load as expected.