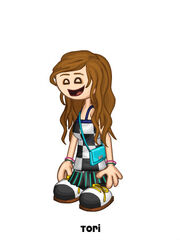 Tori Matteani is a young girl who goes to Tastyville Central High School. She first appears in Papa's Taco Mia! Her favorite holiday is New Year.
Orders
Taco Mia
Pita Bread
Pork Carnitas
Peppers
Cheese
Verde Sauce
Freezeria
Large Cup
Cookie Dough
Strawberry Syrup
Chunky Blend
Whipped Cream
Strawberry Topping
Chocolate Topping
Cherry, (none), (none)
Pancakeria
Waffle
Waffle
Maple Syrup
Blueberry Syrup
Whipped Cream
Honey
Cranberry Juice, S, Ice
Wingeria
Hot Doggeria
Chicago Bun
Veggie Dog
Fajita Veggies
Wild Onion Sauce
Small Diet Fizzo
Meduim Cotton Puffs
Cupcakeria (Symmetrical)
Liner D
Confetti Cake
Sunglow Frosting
Flavor X Drizzle
Rock Candy
Lollipop Bits
Cherry, Streamers, Cherry
Ad blocker interference detected!
Wikia is a free-to-use site that makes money from advertising. We have a modified experience for viewers using ad blockers

Wikia is not accessible if you've made further modifications. Remove the custom ad blocker rule(s) and the page will load as expected.