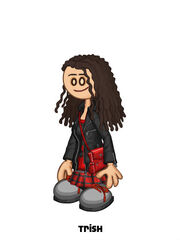 | | | |
| --- | --- | --- |
| " | Guess who got a job at *name of business*! | " |
| | ~ Trish | |
Patricia Marie "Trish" De Le Rosa is a 15 year old girl. Her best friend is Ally. She is based on Trish from Austin and Ally. Her first appearence is Pancakeria. Her favorite holiday is Valentines Day. She gets fired from almost every job she has. That's why her resume is 20 pages long.
List of Jobs
Daisy's Flowers
Yo-Yo Cart
Melody Diner
Susie's Soups
Papa's Pizzeria Cook
Puffy's Pillows
Nintendo Store (Fired for playing games at break)
Red Mango Clerk
Papa's Pizzeria Delivery Girl
Super Adventure Land Amusement Park
Waitress for Starlight Diner
Delivery Girl for Moon Star Chinese restaurant
Clerk at Rite Aid
Cupcake City
Grandma's Bakery
Max's Animal Shelter
Papa's Burgeria Grill Manager
Austin's Manager (Not fired)
Ally's Manager (not fired)
Make-a-Monkey Workshop Clerk
The Fabric Superstore
Tastyville Tomatoes Mascot
Papa's Taco Mia Topping Manager
Relaxation Station Spa Massager
Air Tastyville Flight Attendant
Papa's Freezeria Mixer Manager
Seafood Paradise Waitress
Make-Your-Own-Plate Clerk
Cloudberry Salon
Papa's Pancakeria Drink Maker
Cecilia's Manager
Church Choir Leader
Macey's Clerk
Thanksgiving Parade Balloon Holder 
Benihunu Waitress
Papa's Wingeria Sauce Person
Banana Store Clerk (got fired for playing with MyPads)
Moon's Mattress Kingdom Clerk (Got fired for sleeping on the job)
High Class Catering
Custodian for Papa's Pizzeria
Tropical Smoothie Shack
Suzy's Soups Chef and Waitress
Tacodale Convenience Store Clerk
Beach Snack Shack Clerk
Fairway Market Clerk
Comic Shop Clerk
Party Town Halloween Costume Clerk
Diana's Jewlery Shoppe Clerk (Got fired for "modeling" jewlery)
Santa's Elf at the Mall
Retirement Castle Bingo Caller
Chris's Optical
Papa's Pastaria Server
Papa's Cupcakeria Chef (got fired after a customer did not like her meal, then sprayed Frosting in their face)
Miami Beach Club (Not fired)
Orders
Coming Soon!
Ad blocker interference detected!
Wikia is a free-to-use site that makes money from advertising. We have a modified experience for viewers using ad blockers

Wikia is not accessible if you've made further modifications. Remove the custom ad blocker rule(s) and the page will load as expected.