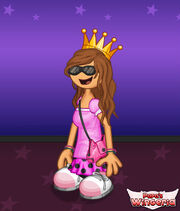 Twinkle is a actor from Starlight city. She has starred in the movie The Mysterious Daisy with Michael and Zack. She is good friends Rosie and they became friends when they both were in a Beauty Pageant but Rosie came 1st place and she came 2nd.
Orders
Freezeria:
Medium Cup
Marshmallows
Strawberry Syrup
Smooth Blend
Regular Whipped Cream
Butterscotch Topping
Nuts
Chocolate Chips
Cherry
Cookie
Cherry
Wingeria:
6 Honey Mustard Boneless Wings
6 Medium Shrimps
Ranch Dip
Zesty Dip
Hot Doggeria:
Cheddarwurst
Chicago Bun
Salsa
Marinara
Hot Sauce
Papa's Ballpark Mustard
Medium Lemon Mist
Small Hot Corn
Section heading
Write the second section of your page here.
Ad blocker interference detected!
Wikia is a free-to-use site that makes money from advertising. We have a modified experience for viewers using ad blockers

Wikia is not accessible if you've made further modifications. Remove the custom ad blocker rule(s) and the page will load as expected.