Venice Michelle is an extremely powerful dragon witch. She has extremely powerful cyrokinetic powers with fire and can change the color of fire. Her powers are unknown to mankind though. Only special people know about her powers. She was created by MIC out of boredness. 
Main Details
Her birthday is March 14, 1988 which is the day of Pi Day. She was born in Venice, Italy, which led to her name.
Favorites
Her favorite food is pie, especially cherry pie. Her second favorite is cheesecake, New York style. Her favorite character is Julia.
Dislikes
She extremely dislikes trolls and water dragons, the opposite of her. She dislikes the color blue.
Attitude
Venice has a secretive attitude. She is usually very quiet but not shy. She is good at eavesdropping and doing deadly things furtively. When she is threatened, she is extremely irate and can destruct anything in her path by using Atomic Fire, the most powerful fire she can generate.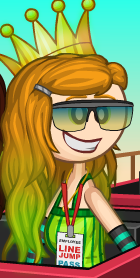 ==Gallery==
Trivia
Her dress changed colors based on temperature. If the temperature is cool, her dress is yellow to green. When the temperature is hot, her dress can get red to orange.  
Venice discovered her cyrokinetic powers when she was 7 years old when she accidently burned down her house.
The story of her parents will be coming soon.
Ad blocker interference detected!
Wikia is a free-to-use site that makes money from advertising. We have a modified experience for viewers using ad blockers

Wikia is not accessible if you've made further modifications. Remove the custom ad blocker rule(s) and the page will load as expected.