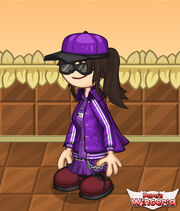 Violet is a girl who loves purple. Even her orders are very purple. She made her debut in Taco Mia!. Her Favorite holiday is Onionfest
Orders
Taco Mia!
Pita Shell
Pork
Loco Mystery Sauce
Cheese
Onions
Verde Sauce
Freezeria
Small Cup
Blueberries
Rainbow Sherbert Syrup
Regular Blend
Chocolate Whipped Cream
Blueberry Topping
Cookie
Pancakeria
Blueberry Pancake
Bacon Pancake
Blueberry Syrup
Raspberries
Maple Syrup
Raspberries
Cranberry Juice, Small, Ice
Wingeria
8 Wild Onion Strips on left
8 Cheese Cubes on right
Awesome Sauce Dip
Hot Doggeria
Pumpernickel Roll
Veggie Dog
Onions
Wild Onion Sauce
Pineapple Relish
Chili
Cheese
Medium Purple Burple
Small Candy Jack
Cupcakeria
Symmetrical (except for frosting)
Violet Frosting (Deep Purple Frosting on other cupcake)
Creameo Bits (Sourballs During Onionfest)
Chocolate Drizzle (Purple Burple Drizzle during Onionfest)
Gummy Onion, Cloudberry, Gummy Onion
Ad blocker interference detected!
Wikia is a free-to-use site that makes money from advertising. We have a modified experience for viewers using ad blockers

Wikia is not accessible if you've made further modifications. Remove the custom ad blocker rule(s) and the page will load as expected.