Western Fan is a girl that likes western just like Peggy. She usually orders many things. She is a good friend of Peggy. She first appeared in Papa's Pizzeria.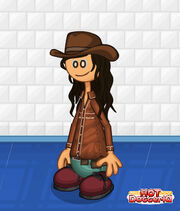 Orders
Pizzeria: 4 Pepperonis, 4 Mushrooms, 4 Olives, 4 Sausages, 2 Peppers, 2 Onions, Cooked For 15.5 Cut In Fourths.
Burgeria: Bun, Tomato, Ketchup, Cheese, Onion, Rare Patty, Ketchup, Onion, BBQ, Medium Patty, Bun.
Burgeria Ipad: Bun, Awesome Sauce, Fried Onion Ring, Pepperjack Cheese, Ketchup, Fried Onion Ring, Welldone Patty, Bacon, BBQ, Bun.
Taco Mia: Hard, Pork, Tomato, Nacho Cheese, Guacamole, Loco ? Sauce, Peppers, Sour Cream
Freezeria: S Banana w/ Cookie Dough, Smooth, Chocolate Whipped Cream, Blueberry Syrup, Tropical Charms, Butterscoth, Chocolate Chips, Strawberry Syrup, Sprinkles, Banana, Cookie, Cookie, Cookie, Cherry, Banana.
Pancakeria: 1 Pancake w/ Blueberry Mix, Honey, 1 Pancake w/ Pecan Mix, Cinnamon, 1 Pancake w/ Choco Chip Mix, Whipped Cream, 1 Pancake w/ Bacon Mix, Maple Syrup, x5 Butter, S Cranberry Juice w/ Ice.
Wingeria: 12 Wild Onion Sauce Wings, 12 Atomic Strips, 12 Parmesan Wings Everywhere, Blue Cheese, Kung Pao, Mango Chili.
Hotdoggeria: Pumpernickel Roll, Cheddarwurst, Salsa, Mushrooms, Hot Sauce, Wild Onion Sauce, Bacon, M Fizzo, L Cheddar Corn
Ad blocker interference detected!
Wikia is a free-to-use site that makes money from advertising. We have a modified experience for viewers using ad blockers

Wikia is not accessible if you've made further modifications. Remove the custom ad blocker rule(s) and the page will load as expected.