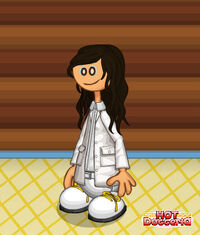 Whitney is a Teen who likes white. Her orders Are
Usually 
Small.
Orders
Pizzeria: 3 Olives, 12 Pepperonis, 12 Peppers, 10 Mushrooms, Cooked For 25.5 Cut In 4ths.
Burgeria: Bun, Mustard, Cheese, Tomato, Onion, Cheese, Medium Patty, Cheese, Pickle, Bun.
Taco Mia: Pita, Beef, Nacho Cheese, Tomato, Jalapeños.
Freezeria: L Banana w/ Cookie Dough, Chunky, Choco Whip Cream, Butterscoth, Banana.
Pancakeria: French Toast, x6 Butter, French Toast, x6 Strawberries, French Toast, Maple Syrup, x4 Butter. L Tea w/ Ice.
Wingeria: 4 Parmesan Wings, 8 Cheese Cubes, 8 Red Peppers, Awesome Sauce, Mango Chili.
Hot Doggeria: Chicago Bun, Normal Dog, Mayo, Marinara Sauce, Mayo. L Purple Burple w/ L Buttered Popcorn.
Ad blocker interference detected!
Wikia is a free-to-use site that makes money from advertising. We have a modified experience for viewers using ad blockers

Wikia is not accessible if you've made further modifications. Remove the custom ad blocker rule(s) and the page will load as expected.