Xander Is one of The X's (along with Xandra and Xolo) First appearing In Pizzeria, and In Pancakeria as Closer. He is Crazy, But Not THAT Crazy.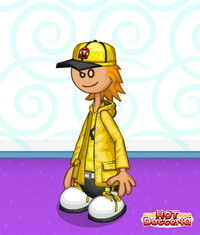 Orders
Pizzeria: 3 Anchovies on Left Half, 3 Olives on Right Half, 3 Peppers on Left Half, 6 Pepperonis on Right Half. Cooked for 5, Cut In 4ths.
Burgeria: Bun, Cheese, Onion, BBQ, Pickle, Mustard, Cheese, Mayo, Rare Patty, Bun.
Burgeria Ipad: Bun, Pepperjack, Fried Onion, Awesome Sauce, Pickle, Mustard, Pepperjack, Mayo, Welldone Patty, Bun.
Taco Mia: Pita, Pork, Nacho Cheese, Cheese, Tomato, Hot Sauce, Guacamole, Verde Sauce.
Freezeria: L Rainbow Sherbet w/ Blueberries, Smooth, Choco Whip Cream, Bluberry Syrup, Butterscoth, Strawberry Syrup, Tropical Charms, Cookie (x3)
Pancakeria: (Closer) Blueberry French Toast, Raspberries, Blueberries, Sugar, Blueberry Syrup, x2 Banana, x1 Butter. L OJ w/ Cocoa.
Wingeria: (Not a Closer) 8 Wasabi Boneless, 8 Honey Mustard Wings, 8 Red Peppers, 8 Green Peppers, Zesty Pesto.
Hotdoggeria: Cheddarwurst, Hoagie Roll, Ketchup, Onion, Cheese, Onion, Ketchup, Bacon, Pickle, M Lemon Mist, M Candy Jack.
Ad blocker interference detected!
Wikia is a free-to-use site that makes money from advertising. We have a modified experience for viewers using ad blockers

Wikia is not accessible if you've made further modifications. Remove the custom ad blocker rule(s) and the page will load as expected.