Yellow



First Appearance :

Papa's Taco Mia!

Gender :

Female

Age :

Unknown

Occupation :

Baseball Player

Attitude as Customer :

Normal

Relationship :

Two old people as step parents

Nationality :

Canadian

Too many parameters

Yellow, is a young girl who is really obsessed with the colors white and yellow. She is adopted to two kind old people, and they let her change her name to Yellow. Now when she is fully grown up, she has to find a job to support her family, and her fees for visiting the Eaterias. Luckily, she found one. It was being in the Powder Point Woolies . (though the outfit is not yellow)
Appearance
Yellow is a femal customer who wears a yellow and white sleeping cap on her head, with blonde hair and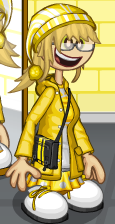 glasses. She smiles and wears a messenger bag (I don't know why). She also wears a yellow jacket and a white shirt with a picture of a sun inside. Lastly, she wears white shoes with yellow laces, and a yellow skirt with white polkadots.
Orders
Soft Shell
Chicken
Cheese
Nacho Sauce
White Rice
Sour Cream
Medium Cup
Marshmallow
Banana Syrup
Smooth Blend
Whipped Cream
3 Bananas
Waffle
Whipped Cream
Waffle
Whipped Cream
Powdered Sugar
3 Bananas, 3 Butter
Drink :
Bottom Bun
Rare Patty
American Cheese
Mustard
Rare Patty
Mushrooms
Mayo
Top Bun
4 Spicy Garlic Wings
4 Parmesan Strips
1 Mango Chilli Dip
Cheddarwurst on a Hoagie Bun
Cheese
Sauerkraut
Pineapple Relish
Mustard
Onions
Mayo
Drink :

Large Lemon Mist
Large Buttered Popcorn
Liner C
Lemon Cake
Identical Cupcakes :

Sunglow Frosting (White Frosting in other Holidays)
Honey Drizzle (Vanilla Drizzle in other Holidays)
Tropical Charms (Shaved Coconut in other Holidays)
Banana, Gummy Pineapple, Banana (3 Marshmallows in other Holidays)
Al-Dente Shells (Al-Dente Spaghetti in other Holidays)
Pineapple Pancetta (Creamy Alfredo in other Holidays)
Lemon Herb (Grated Mozarella in other Holidays)
5 Chicken
Garlic Breadstick
Medium Cup
Pineapple
Banana Syrup
Smooth Blend
Lemon Chiffon
Shaved Coconut
White Chocolate Topping
3 Bananas
Trivia
She is part of the Powder Point Woolies .
The old people who adopt her will soon be revealed when Donuteria is released.
She was forced to join The Woolies.
She likes visiting Cupcakeriathe most.
She never went to High School.
Ranks Needed to Unlock
Random day customer in all Eaterias.
Gallery
Ad blocker interference detected!
Wikia is a free-to-use site that makes money from advertising. We have a modified experience for viewers using ad blockers

Wikia is not accessible if you've made further modifications. Remove the custom ad blocker rule(s) and the page will load as expected.