Yuyuko is a ghost in Tastyville. She's a ghost princess, And she's gluttony (that means she eats alot ;-P. That's why her orders are long. She has very pale skin, due to the fact that she's a ghost.She's Kind, Cheerful and Happy. She Likes Every Kind of Ppl.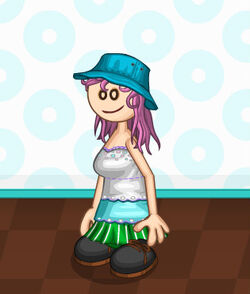 Orders
Pizzeria: 12 Olives Everywhere, 12 Pepperonis Everywhere, 6 Mushrooms on The Top Left, 8 Sausages Everywhere, Cooked for 20.5 Cut In 4ths.
Burgeria: Bun, Medium Patty, Ketchup, Medium Patty, Pickle, BBQ, Cheese, Mayo, Medium Patty, Cheese, Bun.
Taco Mia: Pita, Chicken, Cheese, Guacamole, Peppers, Pinto Beans, Tomato, Verde Sauce.
Freezeria: L Chocolate w/ Cookie Dough, Smooth, Choco Whip Cream, Strawberry Syrup, Tropical Charms, Sprinkles, Choco Chips, Strawberry Syrup, Cookie, Creameo, Banana.
Pancakeria: Waffle w/ Chocolate Chips, Chocolate Chips, x4 Butter, Waffle w/ Chocolate Chips, x2 Banana, Waffle w/ Chocolate Chips, x1 Strawberry, Raspberries, L Tea w/ Sugar.
Wingeria: 4 BBQ Boneless, 4 Green Peppers, 4 Red Peppers, 4 Cheese Cubes, 4 French Fries, 2 Celeries, 2 Red Peppers, Zesty Pesto, Awesome Sauce, Zesty Pesto, Kung Pao
Hotodoggeria: Pretzel Bun, Kielbasa, Onions, Relish, Mushrooms, Fajita Veggies, Marinara Sauce, Salsa, Ketchup, 3 Sport Peppers, Bacon, L Tangerine Pop, L Candyjack.

04:32

Yuyuko's Theme - Border of Life

Cupcakeria: 3rd wrapper, Chocolate Cake, Chocolate Frosting, strawberry drizzle, chocholate drizzle, 6 marshmallows
Pastaria: Spaghetti, Beefy Bolognese, mozzerella, Crushida pepper, 4 mushrooms, 5 assorted holiday toppings
Doremy Sweet

's FCs
Major FCs
(Click to Expand/Hide)
Minor FCs
(Click to Expand/Hide)
Touhou FCs
(Click to Expand/Hide)
Ad blocker interference detected!
Wikia is a free-to-use site that makes money from advertising. We have a modified experience for viewers using ad blockers

Wikia is not accessible if you've made further modifications. Remove the custom ad blocker rule(s) and the page will load as expected.