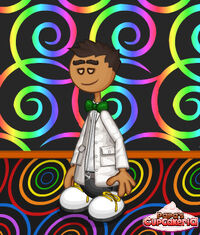 Zakai is a Doctor who first appears in Papa's Taco Mia. He owns a Pharmacy. He's also a special kind of customer, since he'll give you extra tips (Even with Jojo's Ribbon) His favorite holiday is Thanksgiving.
Orders
Taco Mia: Soft, Steak, Verde Sauce, Mild Sauce, Diced Onions, Diced Tomatoes.
Freezeria: M, Banana, Yum'n'ms, Regular, Whip Cream, Butterscoth, Tropical Charms, x1 Cookie, x1 Cherry, x1 Gummy Onion.
Pancakeria: x1 Pecan Waffle, x1 Bacon Waffle, Honey, Cinnamon, x1 Strawberry, x1 Banana. S CJ w/ Ice
Wingeria: x7 Atomic Shrimp, x14 Cheese Cubes, X4 Blue Cheese Dips
Hotdoggeria: Pumpernickel Roll, Veggie Dog, Pinneaple Relish, Ketchup, M Tangerine Pop, M Butterred Popcorn
Cupcakeria: Liner C, Zebra Cake.

1st: Sunglow Frosting, Pumpkin Pie Drizzle, Autumn Leaves Sprinkles, x2 Chocolate Acorns
2nd: Orange Frosting, Autumn Leaves Sprinkles, Chocolate Drizzle, x3 Chocolate Acorns
Extra Tips
Normal: $5.50
Bronze: $7.25
Sliver: $8.00
Gold: $10.50
Normal-Ribbon: $8.00
Bronze: $9.50
Silver: $11.00
Gold: $15.00
Ad blocker interference detected!
Wikia is a free-to-use site that makes money from advertising. We have a modified experience for viewers using ad blockers

Wikia is not accessible if you've made further modifications. Remove the custom ad blocker rule(s) and the page will load as expected.