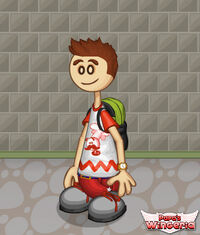 Zdenek is one of the brothers of 
Zev
. He makes constant trips to the entire Papa world for reseraching weird or extraordinary things and bring them to diverse shops or museums. In his free time, he takes a break from his trips and have fun with his brothers. He's also the middle brother.
Orders
Pizzeria: 3 Pepperonies, 9 Mushrooms, cooked for 5 mins, cut in 8ths.
Burgeria: Bottom B, Lettuce, Medium Patty, Mayo, Medium Patty, Tomato, Top B.
Taco Mia: Hard, Pork, Mild Sauce, Verde Sauce, Onions.
Freezeria: S, Yum'n'ms, Banana, Medium, Whip Cream, Shaved Mints, Shaved Mints, Chocolate Chips, Chocolate Chips, Butterscoth.
Pancakeria: Blueberry Waffle, x2 Strawberries, x2 Butter, Blueberries, Sugar, Cinnamon, Choclate Chips, L Tea w/ Ice.
Wingeria: 4 Parmesan Wings, 4 Wild Onion Strips, 4 Celeries (left), 4 Carrots (left) 8 Red Peppers (right)
Hotdoggeria: Pumpernickel Roll, Veggie Dog, Tomato Sauce, Mushrooms, Pinneaple Relish, Mild Sauce. M Dr Cherry, S Cotton Puffs.
Ad blocker interference detected!
Wikia is a free-to-use site that makes money from advertising. We have a modified experience for viewers using ad blockers

Wikia is not accessible if you've made further modifications. Remove the custom ad blocker rule(s) and the page will load as expected.