Zev is a guy who lives in the cold zone of Powder Peak. His hobby is to go surfing with his best friend, Kahuna. He also plays multiple instruments such as trumpet, piano, flute, etc. He makes constant trips to Calypso Island.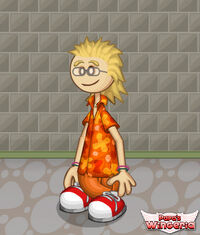 Orders
Pizzeria: 6 Anchovies (left) 3 Olives (right) 3 Sausage (right) 6 Pepperoni, 6 Peppers. Cooked for 10 mins, cut in 6 pieces.
Burgeria: Bottom Bun, Cheese, Mayo, Tomato, Rare Patty, Welldone Patty, Pickle, Top Bun.
Taco Mia: Hard, Beef, Verde Sauce, Cheese, Hot Sauce, Beans, Sour Cream.
Freezeria: M, Creameo Bits, Chocolate, Chunky, Whip Cream, Starwberry Sauce, Tropical Charms, Butterscoth, Shaved Mnints, Creameo, Banana, Cookie.
Pancakeria: Blueberry Toast, x5 Butter, Choco Chips Toast, x5 Butter, Whip Cream, Cinnamon. L Milk w/ Cocoa.
Wingeria: 3 Honey Mustard Shrimp, 3 Medium Strips, 6 Cheese Cubes, 3 Green Peppers, Ranch, B. Cheese, Ranch, Kung Pao.
Hot Doggeria: Chicago Bun, Kielbasa, Mustard, Cheese, Tomato Sauce, Relish, Pickle, M Tangerine Pop, S Cinnamon Swirl.
Ad blocker interference detected!
Wikia is a free-to-use site that makes money from advertising. We have a modified experience for viewers using ad blockers

Wikia is not accessible if you've made further modifications. Remove the custom ad blocker rule(s) and the page will load as expected.