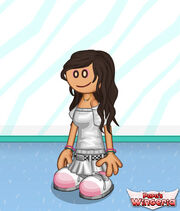 Zora is a girl who is a Cheerleader. She is a dancer and has auditioned for many movies but didn't get a part. She first started dancing when she was 4. She is absent in Hot Doggeria because when she was little she was playing baseball but she tripped and scraped her knee. Ever since she has never wanted to watch, discuss or play baseball.
Orders
Pancakeria:
Waffle
Waffle
Waffle
Maple Syrup
Tea with Ice
Wingeria:
4 Parmesan Wings
4 Wasabi Wings
2 Red Peppers
2 Green Peppers
Mango Chilli Dip
Blue Cheese Dip
Zesty Dip
Ad blocker interference detected!
Wikia is a free-to-use site that makes money from advertising. We have a modified experience for viewers using ad blockers

Wikia is not accessible if you've made further modifications. Remove the custom ad blocker rule(s) and the page will load as expected.